The stunning offices of Estée Lauder in one Fitzroy street, London, has a roof terrace featuring the beautiful Maia chair by Patricia Urquiola with Park Life table by Jasper Morrison.
Besides being spoiled with state of the art design and furniture, staff at Esteé Lauder enjoys an in-house salon with low-cost treatments and a private staff shop with massive discounts on beauty products.
There's also yoga classes,  inspirational speakers, a canteen based on the London Underground and a company policy which allows employees to from anywhere in the office.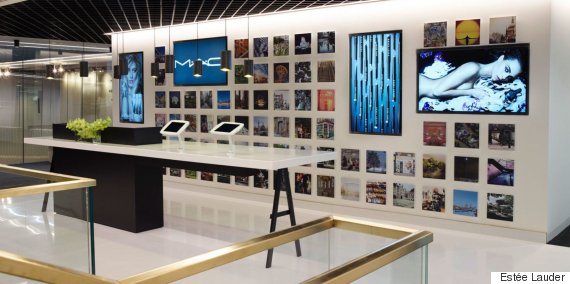 The stunning reception area.

Estée Lauder

The hair salon.

Estée Lauder

The nail bar.

The incredible lift.

Estée Lauder

The roof terrace, with panoramic views.

Estée Lauder

The Art Deco-style staircase.

Estée Lauder

The gourmet canteen.

Estée Lauder

The MAC hub.

Estée Lauder

The Clinique hub.

Estée Lauder

The Jo Malone hub.

Estée Lauder

The Origins hub.

Estée Lauder

The flagship Smashbox store.

Estée Lauder

The 'break out space'

Estée Lauder

And this 'break out space'.

Estée Lauder

The staff shop.

Estée Lauder
Huffington Post: http://www.huffingtonpost.co.uk/2016/03/03/estee-lauder-london-office_n_9372698.html